Play the famous #11 waterhole on Walden
on Lake Conroe Golf Club
A Bit About
Unforgettable Lake Conroe
The Lake Conroe region, as well as the surrounding areas, are the most desirable locations for real estate in the state of Texas. The close proximity to premiere shopping, outstanding medical establishments, cultural attractions Lake Conroe and the Sam Houston National Forest are just a few of the characteristics that visitors and residents are drawn to.
The weather in Lake Conroe is unbeatable with hot summers and mild winters. While the rest of the country is busy shoveling snow and trying to keep warm indoors, Lake Conroe residents are out golfing at the award-winning golf courses and enjoying mild temperatures. The Lake Conroe area is enjoyable year-round and there is always something to do. read more...
Top Reasons for contacting Unforgettable Lake Conroe
Integrity
Honesty
180 homes SOLD in Walden since 2011
Full-Time Agents / Full-Time Service
#1 Realtors for the last 5 years in Walden
Brought the price per squre foot to a higher benchmark
24 years of experience in real estate
Powerful negotiators
We live in and love Walden…we are your neighbors with the Unforgettable bus!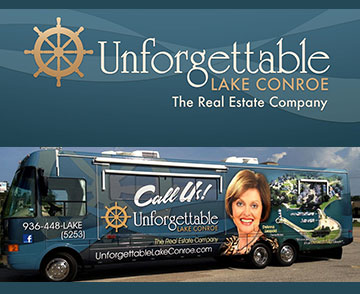 Contact Us
Unforgettable Lake Conroe Real Estate features listings for Waterfront & Water View, the Golf Course and MLS listings too. Our website is loaded with
features

to enhance your visit here.
Top