All you ever wanted to know about fishing on Lake Conroe!
Lake Characteristics


Location: West Fork of San Jacinto River in Montgomery and Walker Counties
Surface area: 20,118 acres
Impounded: 1973

Water Conditions
Current Lake Level
Conservation Pool Elevation: 201 ft. msl
Fluctuation: 1-3 feet


Reservoir Controlling Authority


San Jacinto River Authority
Conroe Project Office
PO Box 329
Conroe, Texas 77305
(936) 588-1111

Aquatic Vegetation

Low density

Predominant Fish Species
Public Access Facilities
The National Forest Service provides two paved public boat ramps and a small boat launch at the Stubblefield Lake picnic area and campground. The service charges a fee for use of the paved ramps. Regular visitors can purchase an annual permit for $30 (or $15 for holders of the Golden Age/America the Beautiful passport). Privately owned marinas also offer boat launch facilities for a fee. For details, choose a point on the map or a name in the chart below.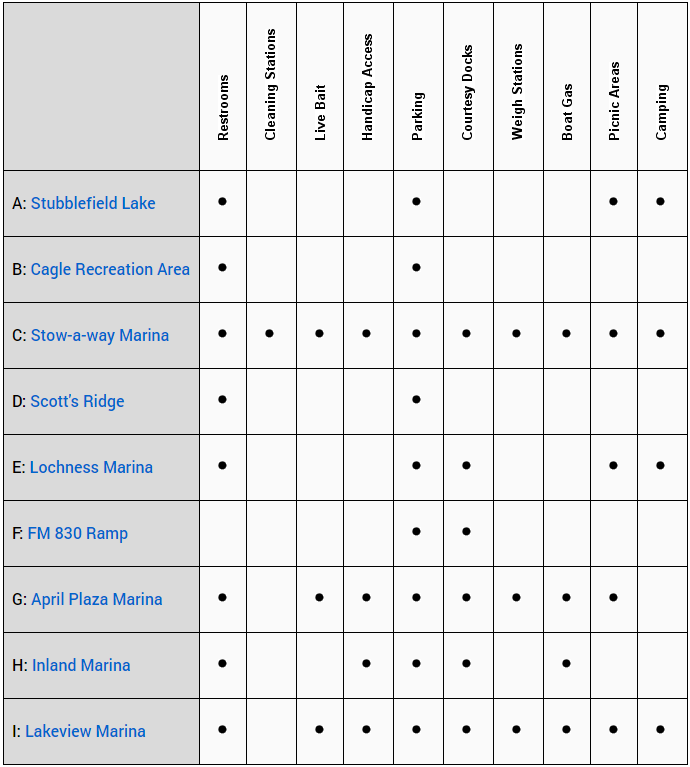 Stubblefield Lake

Located in the Sam Houston National Forest. From the Lake Conroe bridge on FM 1375 travel west approximately 4 miles, turn right on Stubblefield Lake Road, and go about 5 miles to the boat ramp.
Dirt ramp for small boats only
No fee for boat launch; day use fee for campground and picnic area
Open all year
Operated by the National Forest Service (936) 344-6205

Cagle Recreation Area

Located in the Sam Houston National Forest. From the Lake Conroe bridge on FM 1375 travel east approximately 1 mile and turn right at the boat ramp sign.
Two-lane concrete ramp, accommodates all boat types
Fee required
Open all year
Operated by the National Forest Service (936) 344-6205

Stow-a-way Marina

From Willis, go north on IH 45 approximately 2 miles. Exit Calvary Road, turn west and travel approximately 5 miles to marina on right.
Three-lane concrete ramp accommodates all boat types.
Fee required
Open all year
Privately operated (936) 856-4531


Scott's Ridge

From the FM 1097 bridge, go west approximately 1.5 miles and turn right at the boat ramp sign.
Two-lane concrete ramp accommodates all boat types
Fee required
Open all year
Operated by the National Forest Service (936) 344-6205

Lochness Marina and RV Park

From Willis, take IH 45 north approximately 2 miles. Exit Calvary Road, turn west and go about 4 miles to bridge. Just past the bridge, continue following Calvary Rd. about 1 mile to marina on right.
One 2-lane concrete ramp will accommodate all boat types.
Fee required
Open all year
Privately operated (936) 890-8998, lochfacility@yahoo.com

FM 830 Ramp

From Conroe, take IH 45 North and exit FM 830. Go west 5 miles to the cul de sac at the end of road.
Two concrete ramps accommodate all boat types.
No fee required
Open all year
Maintained by Texas Parks & Wildlife Dept.

April Plaza Marina

From Conroe, travel west 10.5 miles on Texas 105 to marina on right.
Three-lane concrete ramp accommodates all boat types.
Fee required
Open all year
Privately operated (936) 588-1144


Inland Marina

Located on Texas 105, 8.5 miles west of IH 45
Three-lane concrete ramp accommodates all boat types.
Fee required
Open all year
Privately operated

Lakeview Marina

From IH 45, travel 7.5 miles west on Texas 105. Turn right on Beachwalk Blvd.
Two 2-lane concrete ramp accommodates all boat types.
Fee required
Open all year
Privately operated (936) 588-3190
Page source: Texas Parks & Wildlife – Lake Conroe